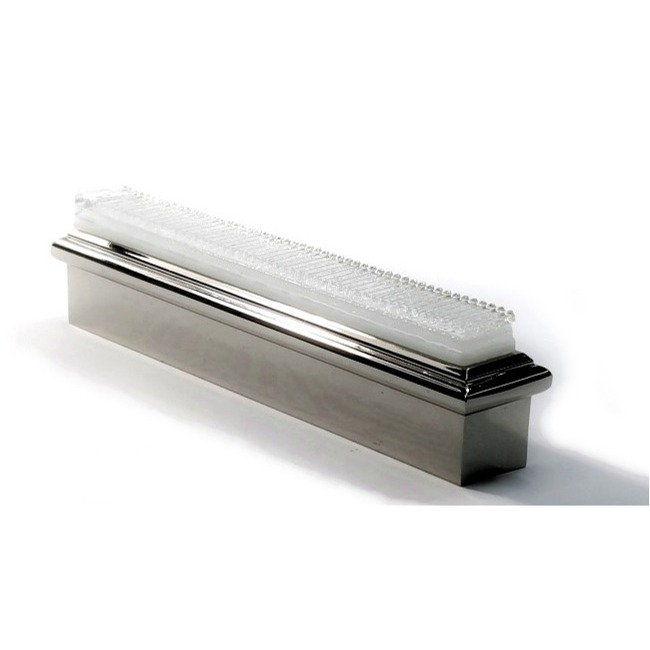 Riffs Collection – 6'' Riffs Cup Pulls for cabinet drawer hardware and cabinet door pulls are beautifully designed in small layers of our crystal-clear glass fused together with art glass mounted on a finished steel base. Used on cabinet doors and drawers with your selection of finishes in mirrored chrome, or satin nickel and glass choices from our ten most popular colors.

Harmonize your cabinets with a final detail of hardware that compliments your creative flair. Colors and finishes that enhance the look of your woods, and laminates, your cabinets will sing with design.

Riffs Cup Pulls are elegant, durable and beautiful cabinet hardware however you choose to install them vertically or horizontally the pattern changes to reflect the ambient light.

Designed to be used in combination with our other styles of cabinet hardware knobs and pulls, using them together will create that final touch of jewelry, our Cup Pulls have a soft gentle curves and delicate points which compliments Transitional Styles interior for your kitchen and bath cabinetry.

Riffs Hardware 'Cup Pull Collection' cabinet pulls was created for Hospitality interiors, yet is perfect for cabinetry in restaurants, spas, hotels and high-end residential projects, where that final detail of jewelry hardware pulls is used to complete the interior look.

Due to the Artisan nature of this handmade process small variations in the final piece may occur and are considered part of the beauty of the design.


For use on cabinets or furniture
Handmade in the USA of Sustainable materials
Finishes of Mirror Nickel or Satin Nickel
Includes (2) 8-32 x 1 Cross Slotted Machine Screws
5 in. center-to-center measurement
Installation Vertical or Horizontal
Available in 10 Beautiful Colors