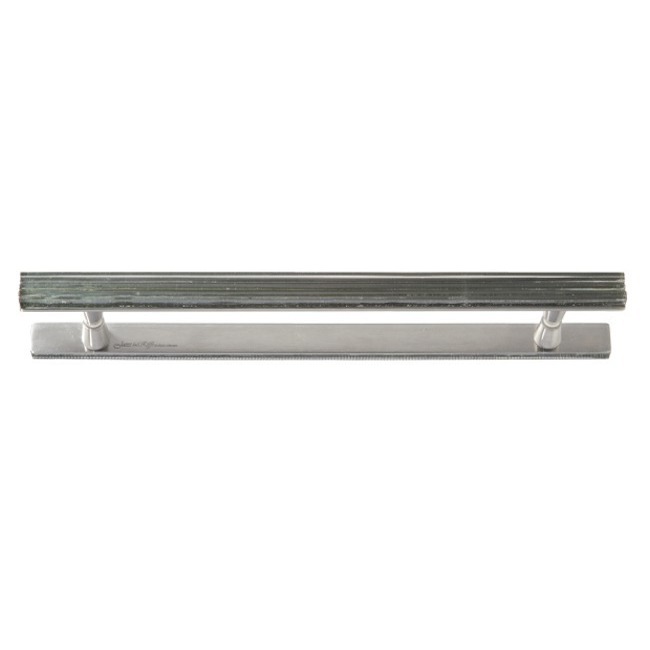 Jazz Collection 18'' double sided glass door handle - used on Shower Doors - Wine room doors - SPA glass doors 1/2' to 3/8' thick glass for that special contemporary look that compliments your creative flair.

Made of stainless steel polished from your selection of Polished and Satin Nickel finishes - colors Aqua Marine - Bombay Blue - Garden Green - Golden Eyes - Love That Red - Mink - Purple Haze - Perfect Pink - Stormy Black & Snow White - Harmonize with your glass doors with the final detail of hardware - that enhance your interior design style in your bathroom & wine room glass doors - elegant - durable and beautifully design bathroom - SPA's shower door handles.

Due to the Artisan nature of this handmade process small variations in the final piece may occur and are considered part of the beauty of the design.

Product Information:

Back to Back glass door handles for use on any
interior doors 1/2'' - 3/8'' thick glass
Made in the USA of Sustainable materials
Colors: Ten beautiful Colors
Finishes:Polished or Satin Nickel Stainless Steel
Includes double handle assembly for back to back
handle installation
Available in 2 lengths only 12'' & 18''
Retail Price: $1,194.00 Satin Nickel / $1313.00
Polished Finish.